Cheap Temporary Fence Banner Mesh Signs
Builders Mesh and banners sign fence screen you can buy here wholesale.
Many authorities in Australia and now demanding 'dust' control on building sites and locations including 'screening' sites with temp fences. This requirement also gives builders a great opportunity to advertise the project during construction. A smart idea. Applications for builders vinyl or mesh include wallscapes, building wraps, parking garages, temporary stadium and bleachers and construction job work site fencing. Common finishing for vinyl mesh banners is with a reinforced hem and grommets every 500mm to 1000mm.
TEMPORARY FENCE VINYL OR MESH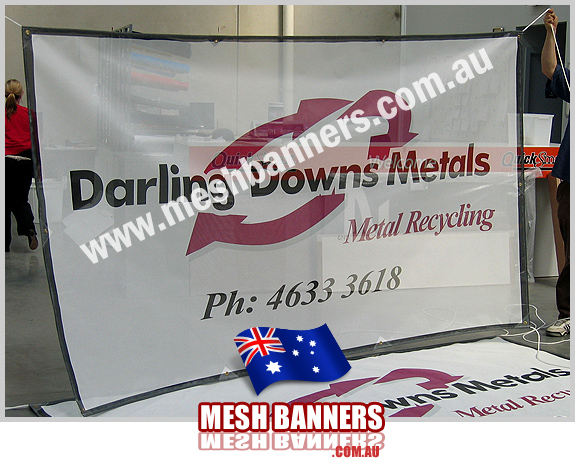 Large size temporary fencing banner sign for 'dust' control, but it gives the project fantastic exposure during the construction, earthmoving and building stages.
Temporary fence sizes vary from state to state, contractor to contractor etc.
Metal rings ( eyelets ) can be spaced to customer requirements
Printing can cover 95% surface area
Delivery to site depot or contractor
Trade and Retail
Bulk discounts are applied as order increases.
Note, it takes a moderate set up time to print mesh banners, please let our team know deadline.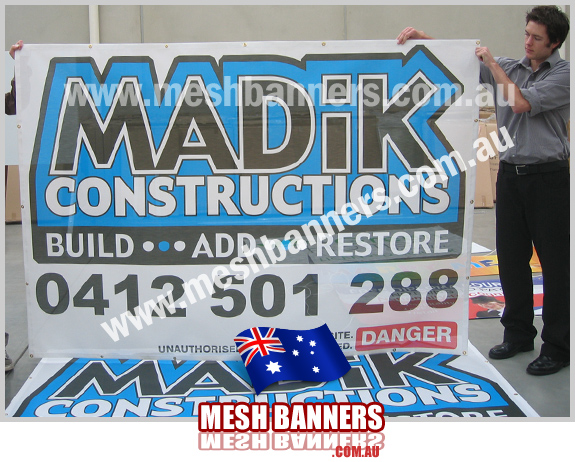 TEMPORARY FENCE VINYL BANNER
Another material choice is vinyl banner. This semi opaque solid vinyl material is designed for 'heavy wear' and has a longer duability.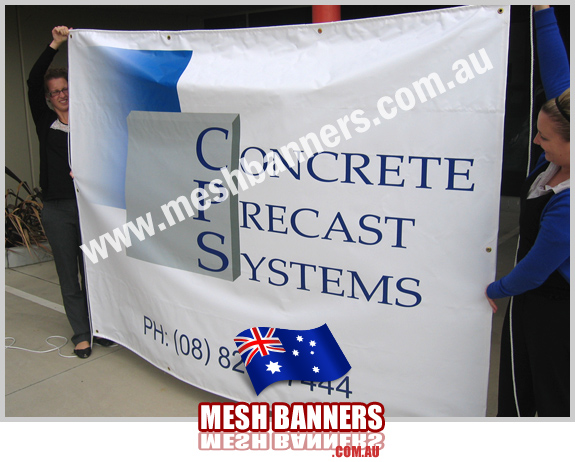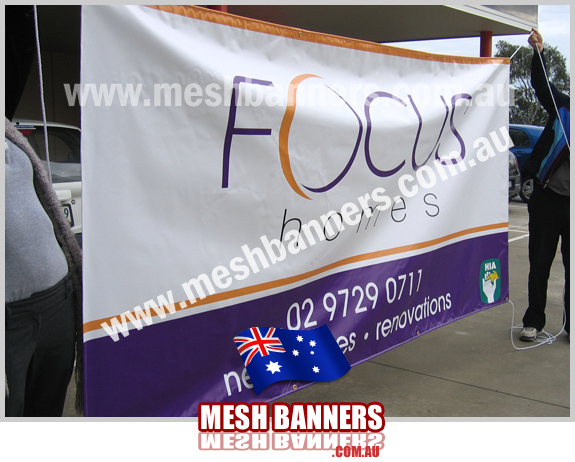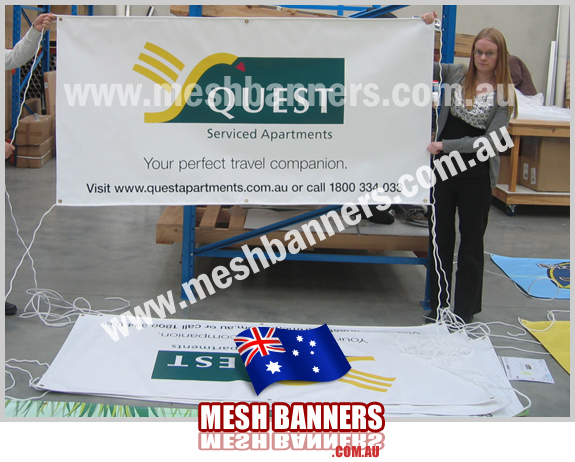 Site Signs
Attach to shipping container or portable shed, portable office building hire etc.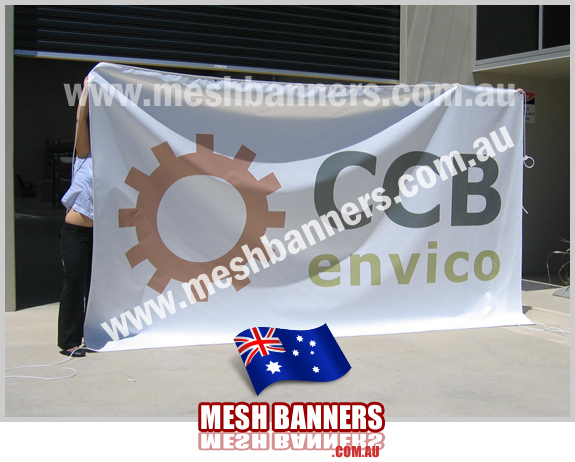 It's a must for building companies with multi 'portables'.
HOARDINGS
Supplying a great deal of hoardings with a) self adhesive decals for plywood or b) vinyl banners that can be screwed onto the plywood or hoarding substrate. This is a more durable technique and much cheaper than signwriting.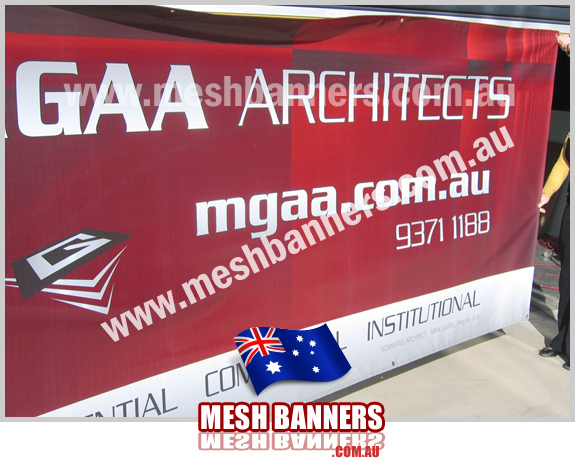 ---
Fence Identification Signs
We also supply all sizes of flute or metal fence company and subcontractor metal signs etc attached to fences, site entrances, safety notice boards etc.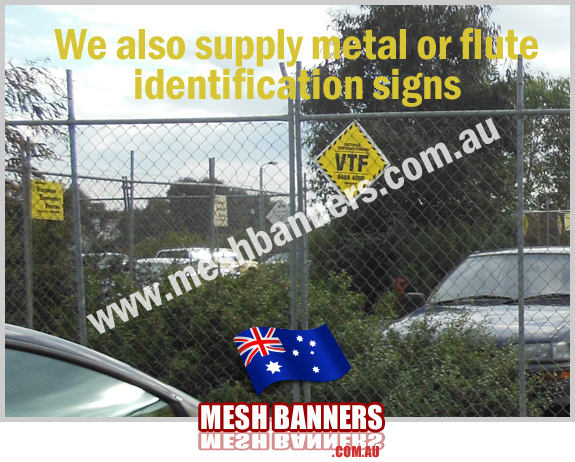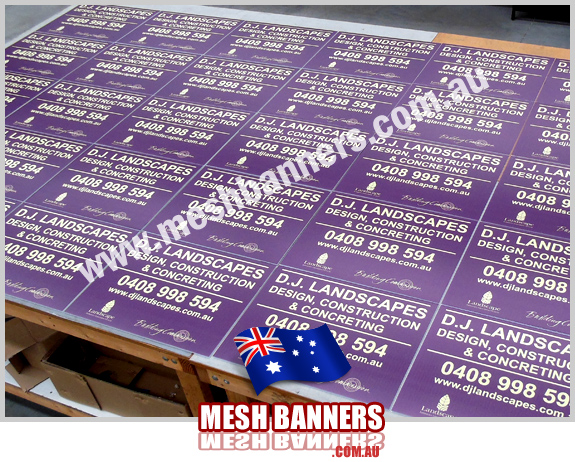 Above, these builders signs and temp fence identification signs are produced in bulk with very cheap prices. Shapes also available.
Also metal site signs. We have been making builders signage for trades and builders everywhere... buy online signs here.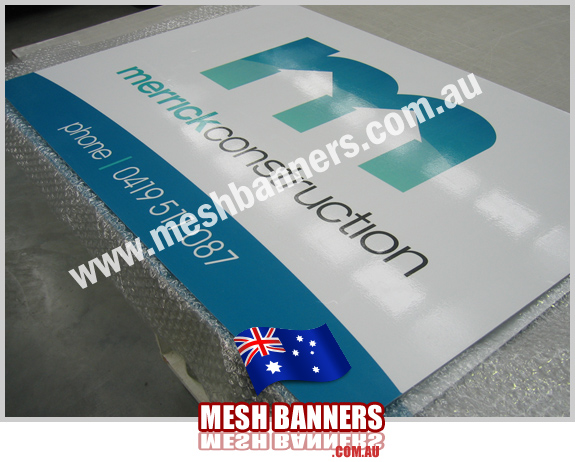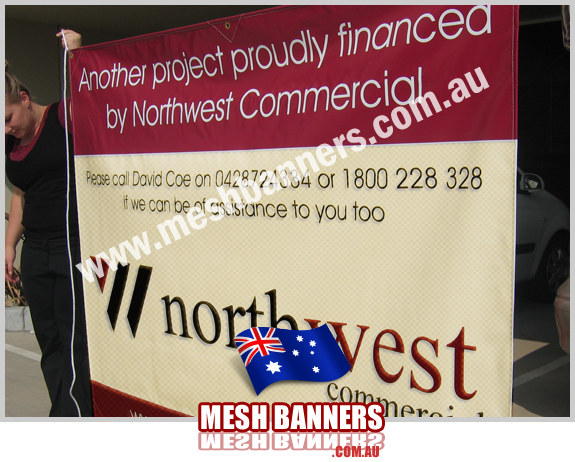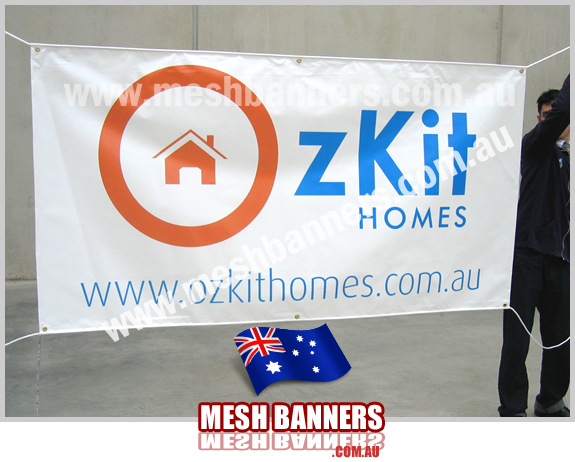 Building partners, sponsors, etc banner sign to be fitted to the temp fence hire panels.
---
EYELETS METAL RINGS



Pressing of eyelets or tie holes can be standard or per your requirements. Please let us know pre quote.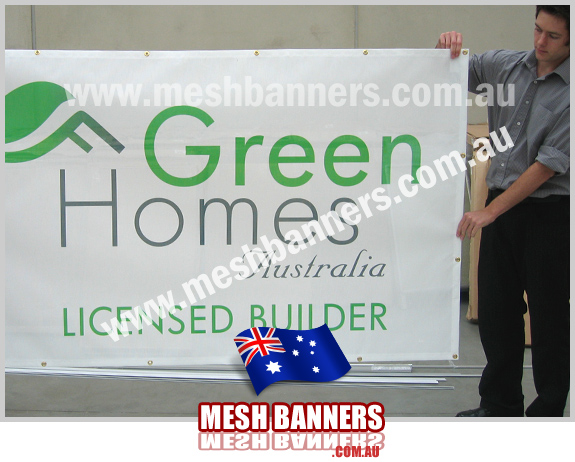 Eyelet placing can be 1m, 800mm, 500mm, 250mm. Please let us know pre-quote.
---
SAFETY SIGNS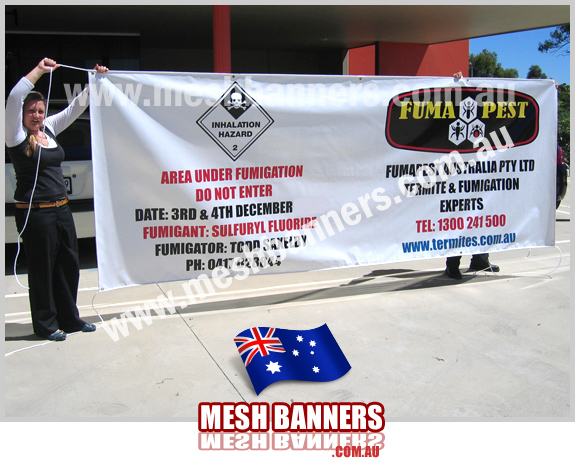 Building site and large plant facilities need notification of commercial spraying, pest fumigation and poisioning. This banner sign tied to the main gate entry explains dangerous notice. Mandatory Color and Emblem used.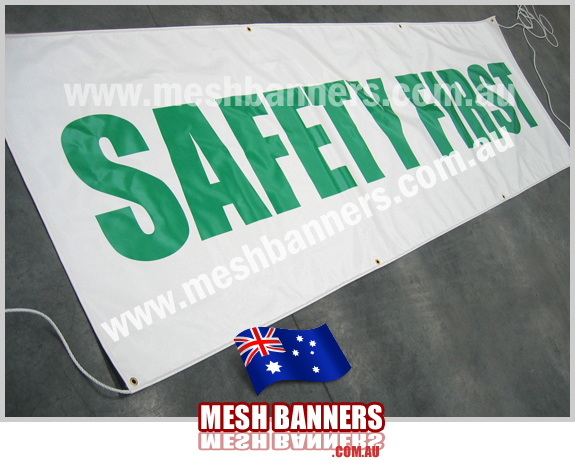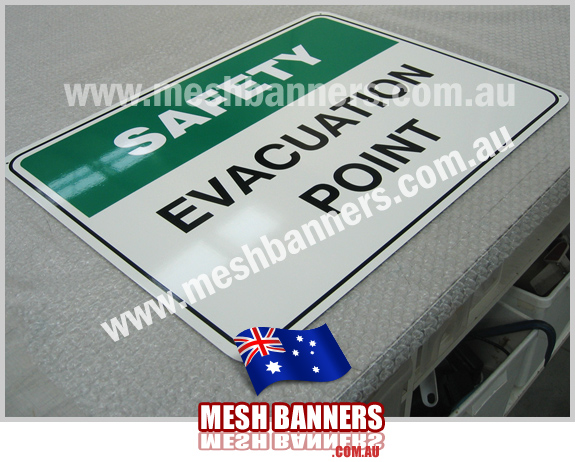 We can also supply safety signs with unique or standard safety sign messages with Australian Standards and colors.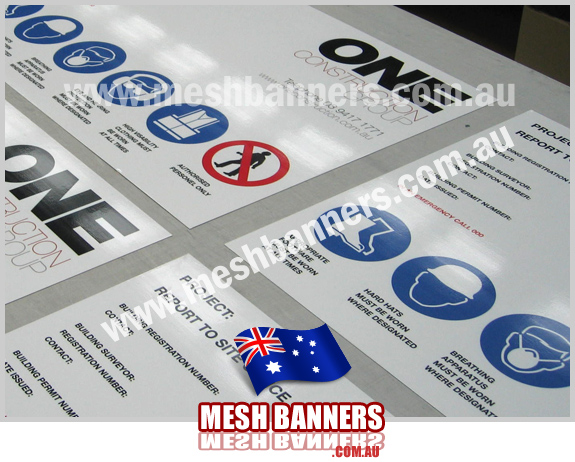 Footwear, Hard Hat, Earthmoving, Electrical, PIT, Access etc are just some of the Australian Safety standards we follow and produce icons and symbols for. Building company safety boards and notices. Whilst we specialise in printing builders mesh and screens, we have been making signs like above for years.
---
DISPLAY HOME BANNERS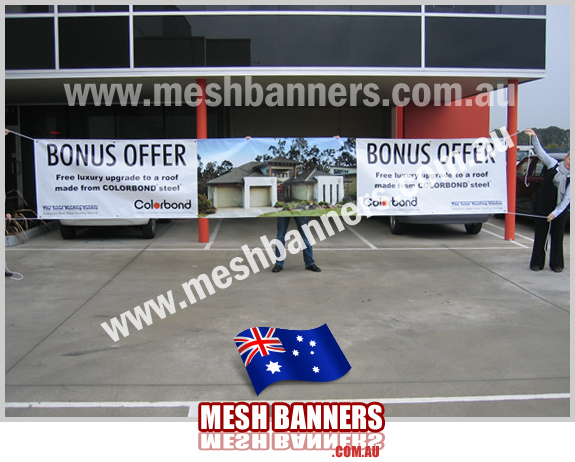 Promotional banners, partnerships and special display home promotions.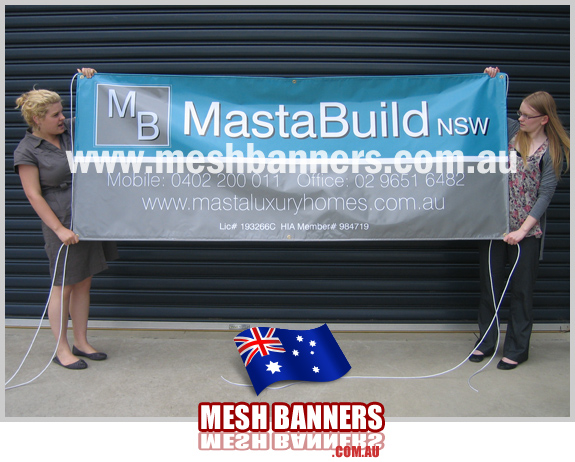 Home Show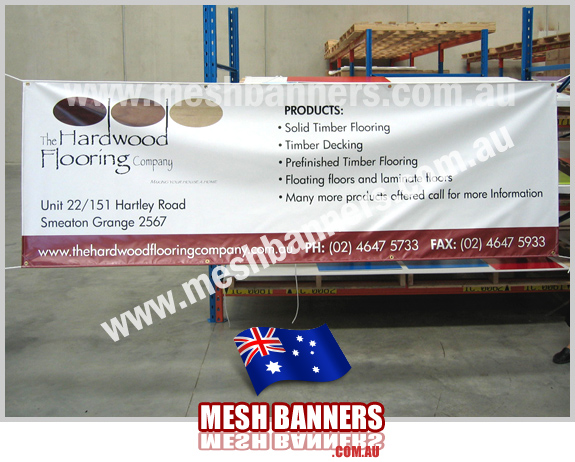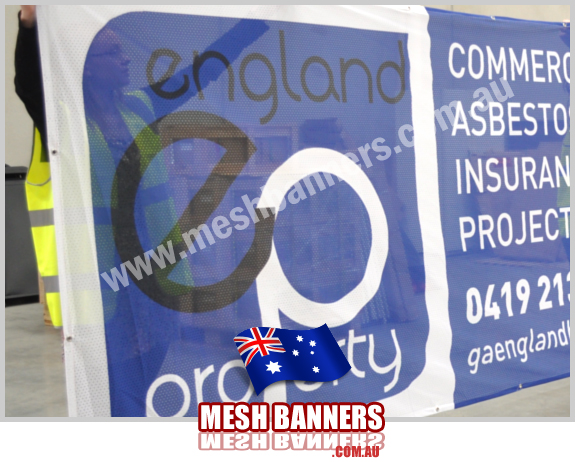 Full size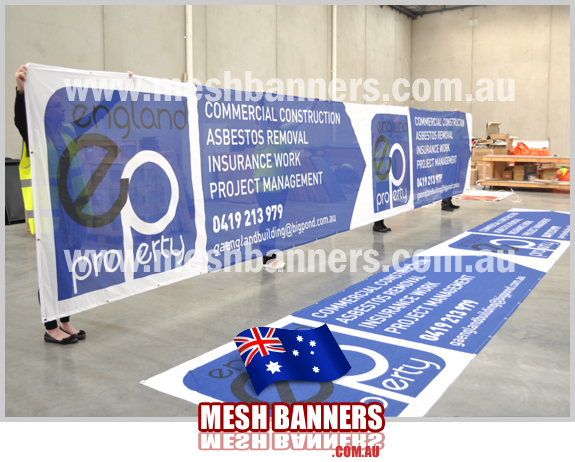 International Banners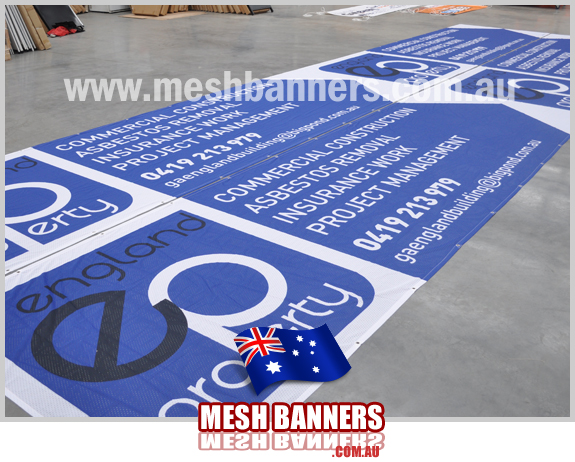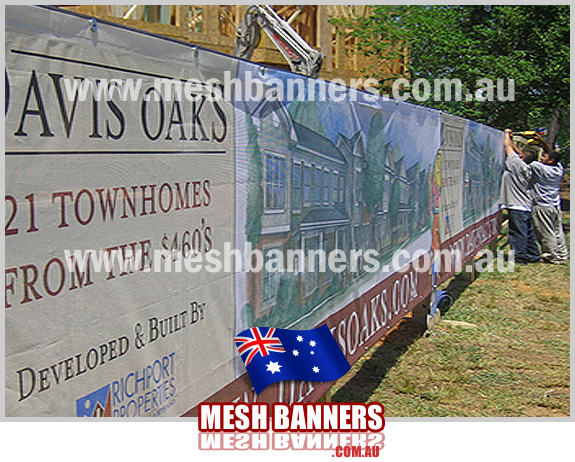 Impressive homes building site fence mesh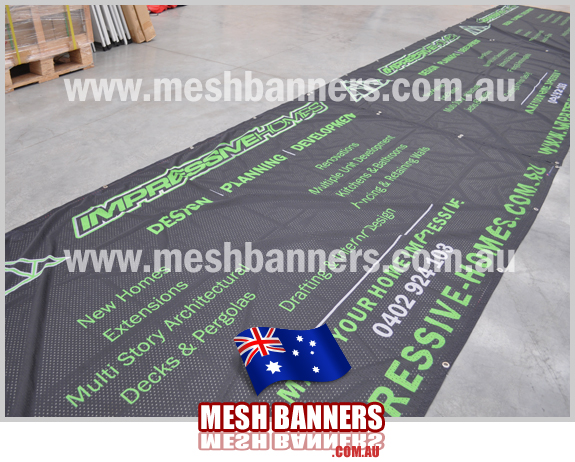 Installing temporary fence signs > One method is to tie large metal rings with screws or thread onto the fence through the eyelets and/or along the width height.

DURA™ A process from inks to material to printing...
Our team are reducing environmental impact and increasing our social responsibility through applying Dura initiatives.
Why Fabric Mesh as a construction hoarding or temporary fence screen?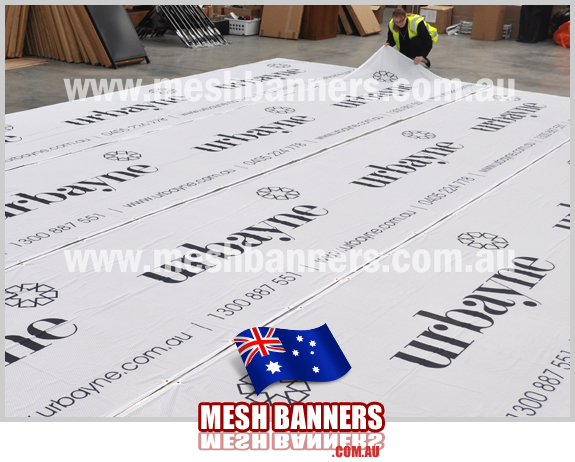 Staff checking the new Urbayne temporary fencing banner signs. Each temporary fence banner sign is used as builders dust and privacy screening during the construction of new homes and renovations around melbourne australia. We supply cheap banner signs melbourne and australia wide including temporary fencing banner signs and mesh banners for building
Fabric is re-usable and bio-degradable.
Cost is lower and affords customers hundreds of additional metres of fencing screen.
Can be sewn to form large heights.
Fabric is 1/3 the weight of vinyl banners of equal size.
NON Tear, the special weave design of Dura makes gives the material non tear status.
More fantastic sign ideas
and examples.
---